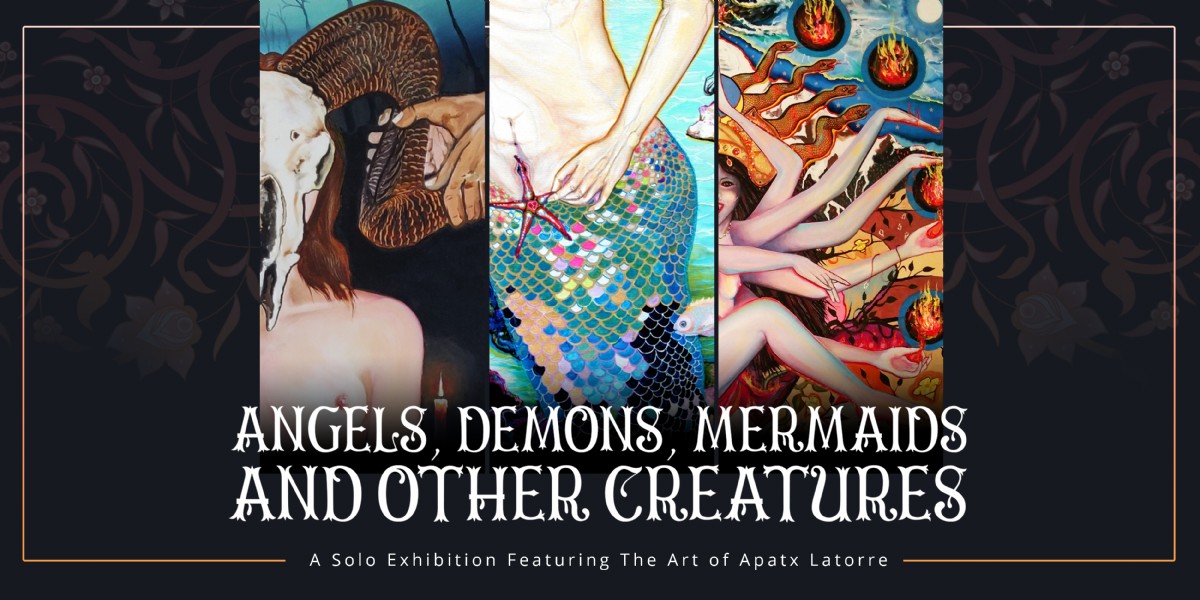 House of Shadows is excited and proud to present our next Solo Exhibition Artist, Apatx Latorre.
His Solo exhibition, Angels, Demons, Mermaids & Other Creatures will be on display at House of Shadows from February 18 - March 11, 2023. Featuring, intricate, multi-colored, original paintings.
"The artwork for the present exhibit reflect subconscious manifestations of the idea of death using angels, mythological creatures and human emotions. Never before I dwelt into dark places with my art but this show comes naturally as a reflection of the deeper, untapped experiences and ideas inside my own self that are, somehow, universal in nature at the same time. Some of these paintings arise from personal experiences that I had with other people while others come from knowledge of eastern philosophy acquired during my trips in Europe and India. All of them have deep meanings attached to, even if hidden in symbols,and all of them talk to everyone of us at some level conscious or not. I invite you to take a good look and submerge your stare into these paintings and see part of yourselves in them. There is something for everyone here." - Apatx Latorre
The Artist Talk will take place on Saturday, February 18, 2023, between 6-7 pm. Meet the artist and learn more about his process and journey as a full-time artist. 
The opening exhibition reception will take place on Saturday, February 18, 2023, between 7-9 pm. Come out and view the work! 
Tickets & Registration
Register to reserve your seat! There are two kinds of ticketing/registration options:
Reserved Seating Admission - $10.00 
Standing Room Admission - $10.00
VIP Admission - $20.00 (Front row, Near Stage, table seating, a bottle of wine & Charcuterie for the table) 
Schedule
Guests coming to Artist Talk Must Arrive by @ 5:30 pm
Artist Talk begins promptly @ 6:00 pm
About the Exhibition: Angels, Demons, Mermaids & Other Creatures
About the Artist: Apatx Latorre
Map to Event