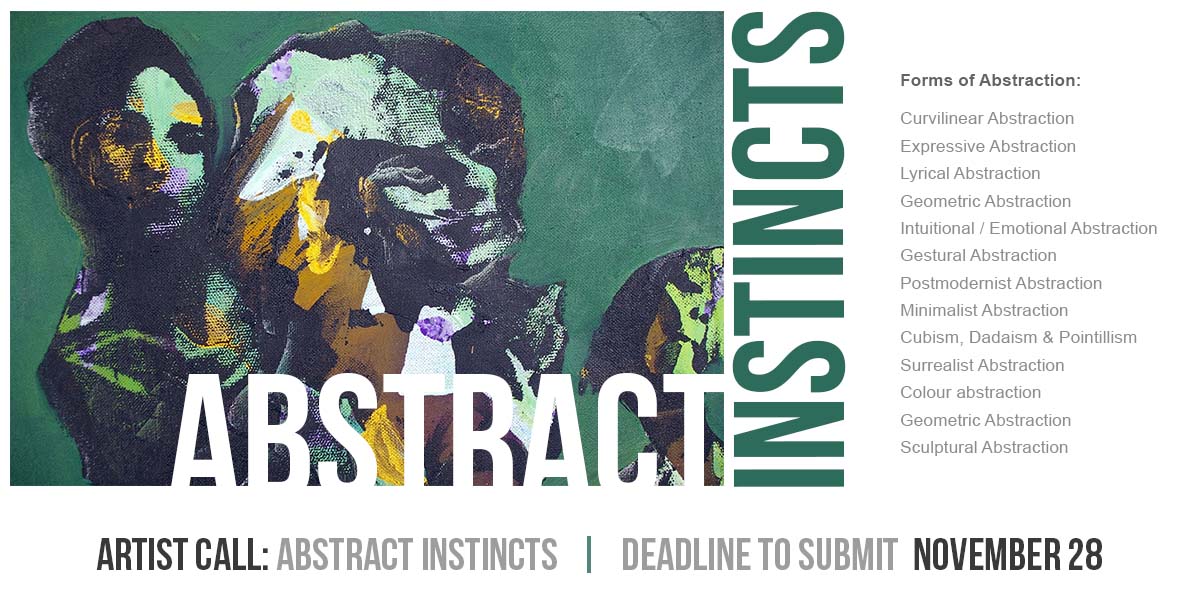 In a world apart from the physical references we see every day, abstract art relies on an innate sense that guides the artist in the use of colors, shapes, lines, and forms to create a work of art that can only be translated through an experience with it. It can provoke familiar, primal feelings within us or an entirely new experience, allowing us to lose ourselves in a new universe created completely by the hand of the artist.
Our exhibition, Abstract Instincts, is a collection of windows into those fantastic worlds, dreams, and visions.
Special Instructions
Call Type: Month Long Exhibition 
Deadline: November 28, 2021, 11:59 PM EST
Open to: Local, Regional, National & International Artists are welcome to submit
State/City: Tampa, Florida
Entry Fee: $30.00 for a maximum of 10 Entries.
Eligibility: Open to all mediums of art with the exception of installation art & Video. Applicants must be at least 18 years of age. 
Call Announcement: November 5, 2021
Submission Deadline: November 28, 2021, 11:59 PM EST
Curation/Finalization of work: November 30, 2021
Artist Bio/Conceptual Statements Due: December 3, 2021
Work drop off: November 16 - December 14-15, 2021, 12:00-5:00 PM EST
Shipped work: Must arrive by December 16, 2021, 5:00 PM EST
Opening Reception: December 18, 2021, 6:00-9:00 PM EST
Exhibition Duration: December 18, 2021 – January 12, 2022 
Work pick-up: January 11-12, 2021, 12:00-5:00 PM EST 
IMAGE USE & COPYRIGHTS
The artist retains all copyrights to submitted images and represented artwork. Digital images submitted with the artist's entry are for exhibition selection only. Artists selected to exhibit grant House of Shadows Creative Gallery & Market the right to use the selected image(s) on printed materials and the gallery website for promotional purposes only. House of Shadows retains no copyrights to the artist's work.
COMMISSIONS & SALES
House of Shadows will retain a 30% commission on any sold work in the gallery during its exhibition run.
SHIPPED ARTWORK
The artist is responsible for insuring and properly packaging their work. A return shipping label must be pre-purchased and provided to us.
Please direct any immediate questions, comments, or concerns to contact@hostampa.com