June 19 - July 10, 2021
In dualism, the mind and body both exist as separate entities. In metaphysics, we can examine the fundamental nature of reality, including the relationship between mind and matter, substance and attribution, and between potentiality and actuality.
As we grow and explore ourselves, we consciously and subconsciously begin to invent a person we feel comfortable presenting to the world and a person we daydream about in private.
The invented self is an idealized version of yourself created out of what you have learned from your life experiences.
We are looking for work that explores the tangible reality of a persona, the invented self. Show us the hidden and realized self - as you interpret it.
Visit the Exhibit
House of Shadows Creative Gallery & Market
2101 W Kennedy Blvd, Tampa, FL 33606
For more information: (813) 773-4111
Exhibit Hours
Tuesday - Friday: Noon - 5pm
Saturday: 10am to 3pm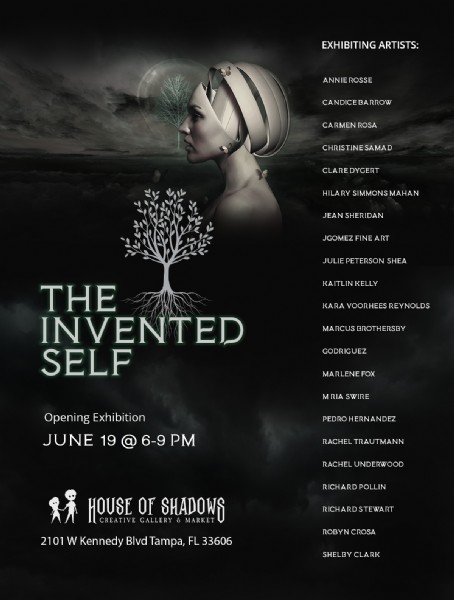 Featured Artists
Annie Rosse
Candice Barrow
CARMEN ROSA
Christine Samad
Clare Dygert
Hilary Simmons Mahan
Jean Sheridan
JGomez Fine Art
Julie Peterson-Shea
Kaitlin Kelly
Kara Voorhees Reynolds
Marcus Brothersby
Godriguez
Marlene Fox
M'ria Swire
Pedro Hernandez
Rachel Trautmann
Rachel Underwood
Richard Pollin
Richard Stewart
Robyn Crosa
Shelby Clark