May 15 - June 13, 2021
For an entire year, we have experienced the seclusion and isolation of a world held hostage by the most widespread pandemic of this generation. As the venues and exhibits artists relied on to display their works experienced shutdowns and cancellations, creatives had no other option but to find alternative showcases. Some artists found it challenging to find inspiration as the weeks and months passed by, darkened by the virus, racial tensions, political dissent, and a world polarized by extremists.
Out of the Dark is an exhibition for work created during this challenging season, spanning multiple mediums. It seeks to spotlight artistic works that range from the hopelessness felt during forced separation and the hopefulness of a future beyond the pandemic. It is the record of what we lived during our quarantines and lockdowns, the stories that happened behind the closed doors of our self-governed isolation, and the words spoken by unseen lips behind the masks we wore to preserve our lives.
We were never silent.
Visit the Exhibit
House of Shadows Creative Gallery & Market
2101 W Kennedy Blvd, Tampa, FL 33606
For more information: (813) 773-4111
Exhibit Hours
Monday - Friday: Noon - 5pm
Saturday: 10am to 3pm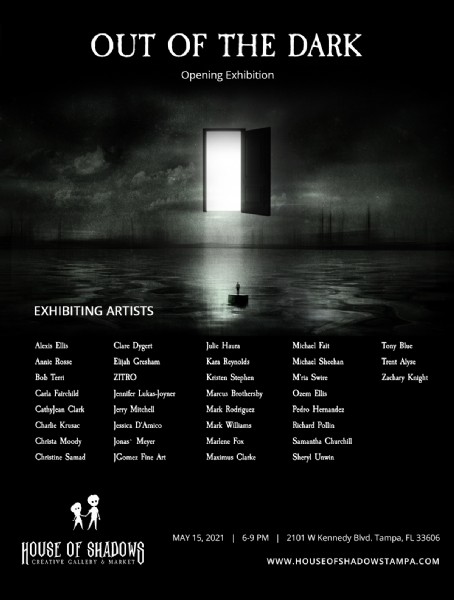 Featured Artists
Alexis Ellis
Annie Rosse
Bob Terri
Carla Fairchild
CathyJean Clark
Charlie Krusac
Christa Moody
Christine Samad
Clare Dygert
Elijah Gresham
ZITRO
Jennifer Lukas-Joyner
Jerry Mitchell
Jessica D'Amico
Jonas` Meyer
JGomez Fine Art
Julie Haura
Kara Reynolds
Kristen Stephen
Marcus Brothersby
Mark Rodriguez
Mark Williams
Marlene Fox
Maximus Clarke
Michael Fait
Michael Sheehan
M'ria Swire
Ozem Ellis
Pedro Hernandez
Richard Pollin
Samantha Churchill
Sheryl Unwin
Tony Blue
Trent Alyse
Zachary Knight