May 29 - June 26, 2021
What is a soul? Can a person have more than one soul? Is reincarnation real or just a belief? Did humans evolve from animals? What is a spirit animal? Can a soul be changed? As I contemplate my own mortality, I ask myself these and other questions.
The transmutation of soul's project evolved from my attempt to understand how people I know have come to exhibit behavior that is completely foreign to who I thought they were. It's as though their very soul has changed.
One definition of soul is: "the spiritual or immaterial part of a human being or animal, regarded as immortal." Another definition is: "the principle of life, feeling, thought, and action in humans, regarded as a distinct entity separate from the body, and commonly held to be separable in existence from the body; the spiritual part of humans as distinct from the physical part."
Reincarnation, also known as rebirth or transmigration, is the philosophical or religious belief that the non-physical essence of a living being (soul) begins a new life in a different physical form or body after biological death.
In biology transmutation refers to the conversion or transformation of one species into another. I used this concept to visually explain the changes to personalities in the people I thought I knew.
Each frame in this series is composed of two images. One is an animal, and the other is a human figure. The human figures are a combination of two to four people who vary in age, ethnicity, and gender. The animals, whether fish, fowl, or mammal represent the beginning of the human evolutionary path. In some cases, they may also represent the human's spirit animal. When these human and animal combinations collide, the result is what I can only describe as the transmutation of souls. I cannot explain the compulsion that drove me to make these images only that they had to be made even if I was the only one to ever see them.
Each image is one of a kind printed on museum grade cotton rag paper using archival inks. I have stitched them together with needle and thread to create a bond between the entities. This is their new DNA.
There are many more valid interpretations, so I invite the viewer to form their own based upon their beliefs and life experience.
Visit the Exhibit
House of Shadows Creative Gallery & Market
2101 W Kennedy Blvd, Tampa, FL 33606
For more information: (813) 773-4111
Exhibit Hours
Tuesday - Friday: Noon - 5pm
Saturday: 10am to 3pm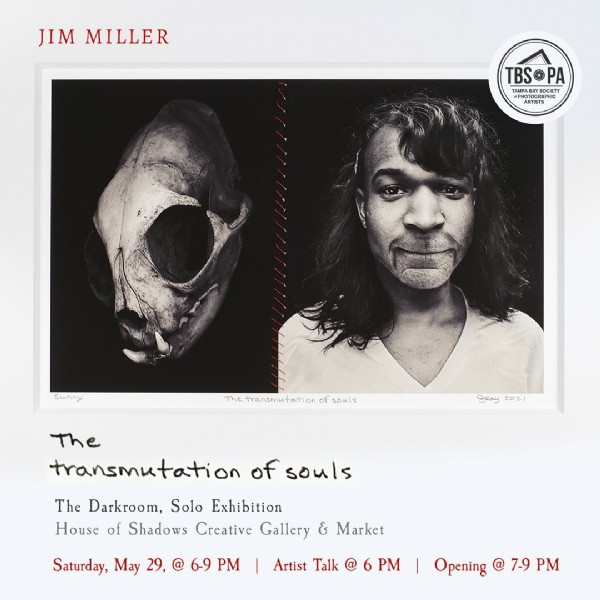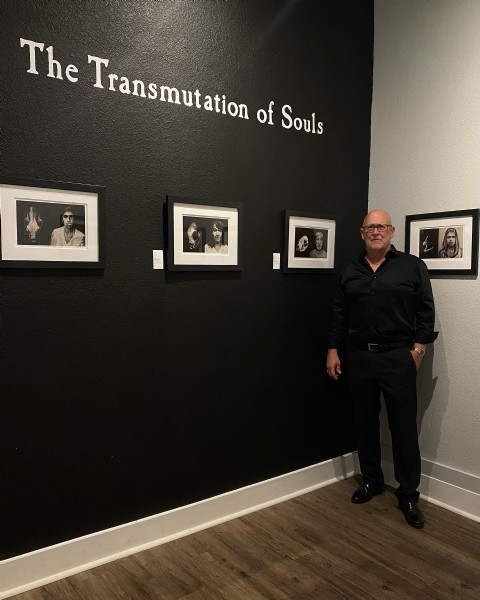 About Jim Miller
Jim Miller (JRay) is a fine art photographer based in Brandon, Florida and has been photographing people and places for more than 50 years. After a recent, serious, illness forced him to examine his own mortality he began searching for answers to questions of identity, memory, legacy, and life after death. Finding that he had more questions than answers he began focusing on his art as a way of visually expressing thoughts and emotions for which he had no words. As a self-taught photographer Jim's work is now primarily conceptual inviting the viewer to develop impressions based upon their own experience, belief system, and understanding of life.
Since turning to fine art Jim has won numerous awards, both domestically, and in international competition, and has had recent work published in the Fall, 2020 edition of "Shots" magazine.