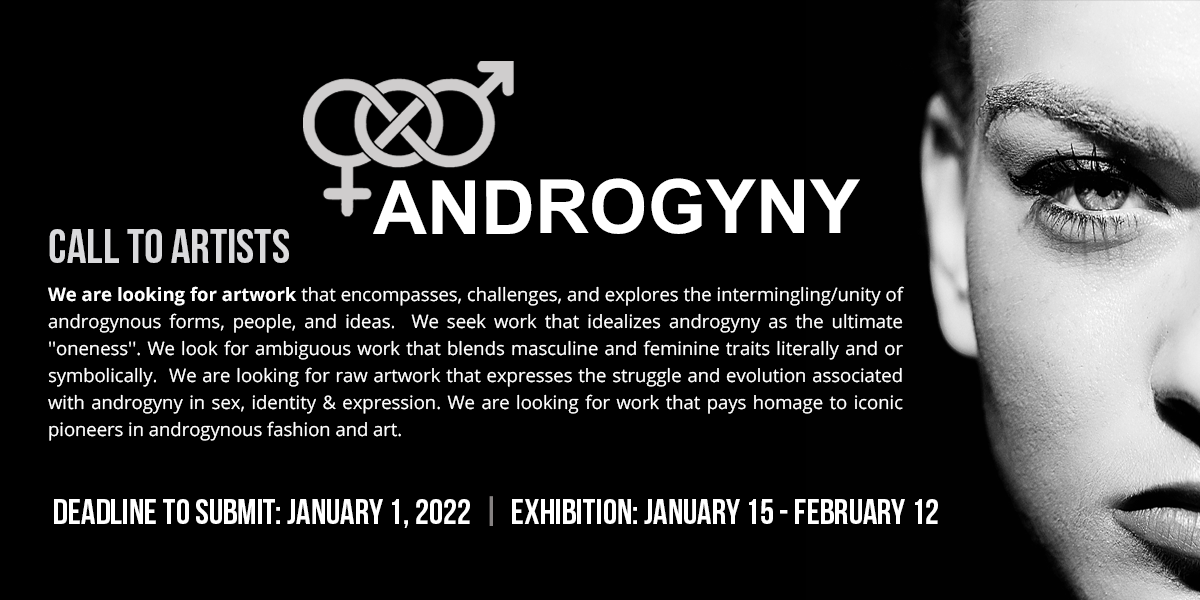 Androgyny  |  Androgynous
Androgyny combines masculine and feminine characteristics into an ambiguous form—this vague form and or person may not identify and or present themselves as neither distinguishably masculine nor feminine. Androgynous gender expression has waxed and waned in popularity in different cultures and throughout history.
The androgenous expression exists universally through biological sex, gender identity, or gender expression. In biology, androgyny refers to individuals with fully developed sexual organs of both sexes. When androgyny refers to mixed biological sex characteristics in humans, it often relates to intersex people. In psychology, androgyny refers to individuals with strong personality traits associated with both sexes. The "androgynous" look has been both accepted and popularized by pop culture icons and trendsetters in fashion. 
Call to Artists
We are looking for artwork that encompasses, challenges, and explores the intermingling/unity of androgynous forms, people, and ideas.  We seek work that idealizes androgyny as the ultimate ''oneness''. We look for ambiguous work that blends masculine and feminine traits literally and or symbolically.  We are looking for raw artwork that expresses the struggle and evolution associated with androgyny in sex, identity & expression. We are looking for work that pays homage to iconic pioneers in androgynous fashion and art. 
Call Type: Month Long Exhibition 
Deadline: January 1, 2022, 11:59 PM EST
Open to: Local, Regional, National & International Artists are welcome to submit
State/City: Tampa, Florida
Entry Fee: $30.00 for a maximum of 10 Entries.
Eligibility: Open to all mediums of art with the exception of installation art & Video. Applicants must be at least 18 years of age. 
Call Announcement: December 9, 2021
Submission Deadline: January 1, 2022, 11:59 PM EST
Curation/Finalization of work: January 2, 2022
Artist Bio/Conceptual Statements Due: January 7, 2022
Work drop off: January 11-12, 2022, 12:00-5:00 PM EST
Shipped work: Must arrive no later than by January 12, 2022, 5:00 PM EST
Opening Reception: January 15, 2022, 6:00-9:00 PM EST
Exhibition Duration: January 15, 2022– February 12, 2022 
Work pick-up: February 15-16, 2022, 12:00-5:00 PM EST 
IMAGE USE & COPYRIGHTS
The artist retains all copyrights to submitted images and represented artwork. Digital images submitted with the artist's entry are for exhibition selection only. Artists selected to exhibit grant House of Shadows Creative Gallery & Market the right to use the selected image(s) on printed materials and the gallery website for promotional purposes only. House of Shadows retains no copyrights to the artist's work.
COMMISSIONS & SALES
House of Shadows will retain a 30% commission on any sold work in the gallery during its exhibition run.
SHIPPED ARTWORK
The artist is responsible for insuring and properly packaging their work. A return shipping label must be pre-purchased and provided to us.
Please direct any immediate questions, comments, or concerns to contact@hostampa.com